Choosing a Chiropractor Or Osteopath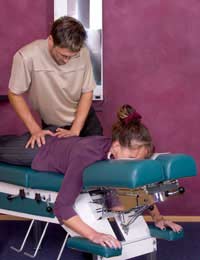 If you've been suffering from joint problems, you might have been advised to seek the help of a chiropractor or an osteopath. Both of these are specialist complementary therapies, and although they are quite similar, they are different enough to both be governed by specific legislation.
What Does a Chiropractor Do?
A chiropractor diagnoses, treats and aims to prevent disorders that occur in the spine, joints and muscles. Chiropractors are probably best known for working with the spine - re-aligning it by adjusting the vertebrae. They don't just help with back problems though, they work with the complete musculo-skeletal system (bones, joints, tendons, ligaments and muscles).
There have been a number of scientific trials which have shown that chiropractic helps to ease lower back pain. In studies carried out in the 1990s, The Medical Research Council found chiropractic to be more effective than hospital out-patient care when it came to treating patients with lower back pain, and in some areas of the UK, treatment from a chiropractor is available on the NHS.
Why Would I Need a Chiropractor?
The most common reason that people go to a chiropractor is pain in the back, neck, shoulders, arms or legs. In some cases, chiropractic can also be effective for headaches, digestive problems, period pain and even asthma!
The Chiropractic Act of 1994 means that chiropractors are now regulated in the same way as doctors and dentists. There is a professional body for chiropractors - the General Chiropractic Council (GMC) – and they keep a register of practitioners.
The GMC also sets educational standards and codes of conduct, ethics and practice. They will deal with any complaints, and if a chiropractor is a member, they must also have indemnity insurance. It's actually illegal for someone to call themselves a chiropractor if they aren't registered with the GMC.
What is an Osteopath?
Osteopaths are frequently confused with chiropractors because they work in a similar way. They use their hands to treat to manipulate bones, joints, ligaments and muscles, using different techniques to help to re-align the musculo-skeletal system.
These manipulations are designed to help ease muscle tension and promote the body's own self-healing ability. They will also incorporate massage, stretching and high velocity thrusting movements to work on different areas of imbalance.
There have been trials that have proved that manipulation by an osteopath is helpful for sufferers of back pain. An American review of trials of osteopathic and chiropractic spinal manipulation in 1992 came to the conclusion that some cases of acute back pain could be relieved using one or both of these approaches, and in 1994 the Clinical Standards Advisory Group in the UK actually recommended manipulation for NHS patients with acute back pain.
How are Osteopaths Regulated?
Like Chiropractors, osteopaths are governed by legislation that sets standards and also makes it illegal to practice as an osteopath unless they are registered with the General Osteopathic Council.
The Osteopathy Act was passed in 1993 to protect the public from untrained and unauthorised therapists calling themselves osteopaths. As with Chiropractic, The governing body sets standards, maintains codes of ethics and practice, and insists on professional insurance, complaints and disciplinary procedures.
HIRING HELP IS FOR SALE.
This website is for sale [more info].
You might also like...