Employing a Personal Trainer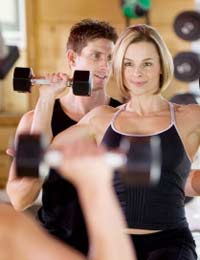 It used to be that only the rich and famous hired a personal trainer to help them get fit and stay motivated, but that's no longer the case, and many people prefer to employ a personal trainer who will tailor a fitness routine to their needs than plough through a dull gym routine that doesn't inspire them.
Why Use a Personal Trainer?
A decent personal trainer can be incredibly motivating, whether you're just starting on a fitness plan or you need that extra push to stick with a fitness routine. A well qualified personal trainer will also be able to give you the tools, knowledge and expertise needed to get the best results from your exercise plan.
Making the commitment to hiring a personal trainer, and booking sessions in advance can also be the inspiration you need to get yourself out of bed on a cold dark morning, when the thought of a trip to the gym on your own would have inspired you to stay right where you were!
Personal Trainers will be qualified, and should be up to date with all of the latest health and fitness knowledge and trends. They will be able to suggest new things for you to try that suit your level of fitness, your interests and ability. It's often more rewarding to work one to one with a personal trainer as you get constant feedback about how well you are doing, areas that you can improve, and a challenging workout.
How to Choose a Personal Trainer
It's important that you make sure anyone you hire to be your personal trainer is fully qualified. Some trainers work from established gyms, which means that you could get a reduced rate if you join the gym, and the added bonus of being able to use the gym's facilities for your fitness training. If you're already a gym member, it's worth enquiring whether any of the instructors do one to one training sessions; because you'll be assured that they are qualified too.
If you don't want to join a gym, there are several websites dedicated to helping you find a personal trainer close to you. The National Trainer Register is a good starting point:
You can type in the name of a personal trainer and find out if they are registered, or find a trainer in your area.
There are several different qualifications for personal trainers, from well known general YMCA Fitness qualifications to specialist areas of fitness. Always ask about your chosen personal trainer's specific qualifications and make sure that they are also trained in cardiopulmonary resuscitation and basic first aid.
When You Find a Personal Trainer
When you have found a personal trainer, you should set up a meeting with them on a free trial basis, to see whether you can work together and set up your sessions. Before you go, you should think about what you would like to achieve from your fitness programme – do you want to improve your levels of fitness, train for an event, tone up or lose weight?
Decide where you want your personal training sessions to be – at your own home, in a studio or gym? And what times and days will suit you? You need to think about how much commitment you can make to a fitness programme before you sit down with a personal trainer and book sessions. It's one thing to book three sessions per week when you're all fired up with enthusiasm, but will you realistically be able to stick to the arrangement?A personal trainer can really help you stay on track with a fitness programme, but it's something you need to commit to.
You might also like...