Finding Financial Advice For Your Home Office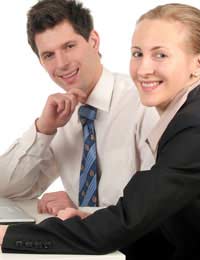 There's a wealth of financial advice on offer in today's information hungry world from the internet through the newspapers to financial consultants, but it's difficult to know who to trust, and let's face it, no-one can predict the future anyway. You'll be unsurprised to hear that there isn't really an easy answer to this, but the government has tightened up the regulations controlling financial advice over the last couple of decades and it's as well to know the rules so you can avoid getting your fingers burned.
Financial Services Authority
Essentially, no-one is allowed to give financial advice, certainly on a commercial basis, without being registered and approved by the Financial Services Authority (FSA), the government's financial watchdog. At the beginning of the internet boom, the FSA decided that they would also clamp down on websites that give opinion too, even if they were not commercial, and whether right or wrong, this led to financial advice websites having to be clear about what they are offering and how they make money from it.
In fact, the FSA's website, www.moneymadeclear.gov.uk, is a good place to start learning about finance and the various different products on offer. As they are government funded they cannot make money from selling you advice or products and their advice is therefore impartial. They cannot, however, give advice or opinion about whether a product is good or bad, they can only explain how things work and warn against firms that have broken the guidelines. But they give a good overview of the various financial product types and have many useful tools to help you work out what you need, and it's well worth visiting before you take up any advice.
Tied Financial Advisers
There are two types of financial adviser, tied and independent. Tied advisers are employed by a financial institution such as a bank, building society, or assurance or insurance company, and are contractually bound to offer only the products provided by that company or another company in their group (for example, an adviser working for Lloyds can recommended either Lloyds or Cheltenham and Gloucester products, as they are both in the same group). There are also tied advisers who have relationships with more than one company, in order to provide a better spread of cover. You can find a tied adviser by walking into a high street bank or building society, or by asking your insurance company if they provide this service.Independent financial advisers.
Conversely, an independent financial adviser (IFA) can select products from a wide range on the market, from virtually any company, although the reality is that many specialise in a few company's products, or a certain field, because it's so difficult to keep track of every product from every company. In theory they should be able to sell you the product that best fits your needs, but there is often a temptation to sell the products that give them the best commission. As they are now legally bound to explain to you how much commission they receive on every product, and how and when it is paid, this is now more transparent. In fact, it is possible to choose to pay an adviser by an hourly fee rate instead of by commission, and this is slowly becoming a more popular choice, as it is thought more likely to deliver truly independent advice.
Time to Consider
One of the most important things to remember about entering into any financial deal is that many products have a 'cooling-off' period after you have signed the papers, during which you can cancel the contract without penalty, if you later decide that it's not right for you. The cooling-off period is usually only a matter of days and varies from product to product, but some things you enter into, buying shares, for example, come into effect immediately and have no cooling-off period. Make sure you know your rights before you sign.
You might also like...