Press Coverage for Community Events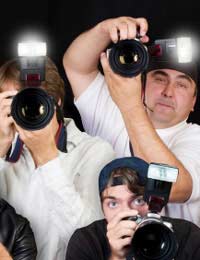 Getting press coverage for community events should be possible, but you may have to be creative and take the initiative to get more than just a couple of lines. If the event is something that you want members of the public to come to, then the more people know about it the more they are likely to attend.
Plan Press Coverage For Community Events
Before you start involving the press you need to have a marketing plan in place, with press coverage as part of it. This might seem a bit too serious, and you probably don't want to come over too slick for a local or even regional event, but if you want to draw in the crowds you need to have serious co-ordination underpinning all the publicity and involving the newspapers is no different. You'll find more information about making a marketing plan in an article in this section.
As far as involving the media goes, despite television and now the rise of the internet, the press is still very important. First steps should be to compile a list of all publications where you think you might be able to get coverage. Examples are:
Local newsletters
Local free newspapers
Local and regional paid-for papers
Regional magazines
Specialist magazines
National magazines
National newspapers
Many areas have local newssheets with a loyal readership so they should probably be the first target. Depending on the size and nature of your area, they can range from a single sheet of photocopied paper to a professionally produced and printed magazine. Get on friendly terms with the people who run it and try and get human interest articles published in the run up to the event as well as a big splash at the right time.
Get Onto The Newspapers
Local newspapers, both free and paid-for, and regional magazines are likely to have events sections so definitely make sure that you get your community event in those listings. Make sure it is accurate, and if possible try and get a feature too. This is easier if you write the feature yourself and send it in, as it cuts down the amount of work that editors have to do.
If you've never done an article or press release before, try and find a local writer who is prepared to write something for you on a volunteer basis, perhaps in return for a credit in your program. But it's likely that they'll want you or one of your co-volunteers to hawk it around the various newspapers as that's the time-consuming bit.
Phoning editors and other people in media isn't particularly onerous but they are often busy and harassed, so keep it short and to the point. These days it's probably best to email your publicity piece in first then call a few days later to ask if they are likely to place it. You can find contact details on their websites.
Specialist magazines that cover the same subject matter as your event may give it a small feature as well as putting it in a listings section. If it is a very good fit; for example, a horse and country living magazine when you are holding an event around horses and horse riding, may well offer some free publicity material in return for a more significant mention. On the other hand, they'll be featuring many similar events so you will need to think hard about making your event stand out from the rest.
Publicity In The Nationals Is Harder To Achieve
National papers and magazines are harder to crack. For a very big event, of course, you are more likely to get coverage, but for something local you are unlikely to get any publicity from these avenues unless you can rope in local celebrities and get them to pull a few strings.
Alternatively, think of a completely off the wall publicity stunt and the coverage will come. After all, ten years ago charity nude calendars didn't exist…..
You might also like...