Help With The Maintenance of Roofs, Gutterings and Drains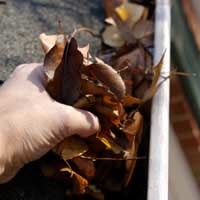 Keeping the fabric of your house in good condition is a very worthwhile investment but working at heights, which is usually required with roofs and guttering, is something that many people don't want to do. At the other end of the scale, below ground, many householders don't want to tackle the unspeakable horrors of the drains either. With any of these areas, roofs, guttering or drains, it's often going to be a case of calling out either a building company or a specialist firm. But before calling a specialist in there are some simple checks that are worth doing in order to save time and money.
Checking Your Drains
If there's a problem with the drains, it's fairly easy to lift the covers of the inspection pits outside the house. Look for metal covers in the area of the downpipes and outflows from the kitchen and bathroom areas and carefully lift the lids (they are very heavy).
You may be able to see where the obstruction is. If one chamber is full of water but the next one in line, either closer to the street or a little further downhill, is dry, then the obstruction is in between the two, and some judicious prodding may clear it. If they're all dry, then the obstruction may be under the sink, bath or toilet in question. You might not want to tackle it, but at least you know what you're dealing with before calling someone in.
Going out when it's raining hard is the best time to watch guttering as you can see if the rain flow is being successfully diverted or overflowing. And again, lifting the inspection covers will enable you to work out where the obstruction lies, unless it's halfway up the wall.
Checking Your Roof
When it comes to roofs, then an external examination for missing or broken slates or tiles, and checking in loft voids for excessive drafts or leaks, is about as much as an ordinary householder can do.
Drainage problems
For pure drainage problems, there are specialist firms such as Dynorod who can come out and deal with them, but if it turns out to be something serious underground, then a builder will have to come in to dig up the area and rebuild parts of the drainage system.
Specialist Companies
Once you know you've got a problem, then unless you know someone who you can trust to carry out the job for you, then you will need to look in the telephone directories and local newspapers for suitable candidates. There are companies that specialise in replacing gutters, drainpipes and the facia boards (or soffits) that run along the top of the walls, under the eaves, to support the guttering.
Working on roofs is another area of building that attracts many specialist companies, some of them national, although if you're in a remote area you might consider a local builder a better bet. One relatively recent innovation is spraying sealant that dries to a rigid foam that locks tiles or slates and their supporting structures in place, rendering the loft space dry and draft-free. However, some of the companies offering this service appear to be using sales tactics that were widely discredited when used in the double-glazing business and care should be taken before going down this route.
Speaking of selecting a contractor or company to do the work for you, the usual common-sense tactics should be employed whether you go for a specialist or a general builder to do the work. Try and get at least three people to come and see the job and quote for it, and get people by personal recommendation if possible. Do not sign any contracts or pay any money up front, and, for a large job, if anyone on your short-list will not give you the details of previous customers that you can visit as references, and then simply do not use them.
You might also like...