Employing a Personal Assistant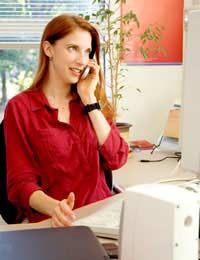 Personal assistants have been around in the business world for decades and we have lately become more aware of their existence in the celebrity world, as we are bombarded by celebrity gossip and reality shows where C-list celebrities choose their PA from a host of wannabees. The idea of ordinary people using PAs is relatively new, but growing.
In a commercial environment a PA will be attached to an executive, sometimes more than one, and help with travel arrangements, arrange meetings and coordinate diaries In many cases they help with the work of the executive, preparing presentations and documents. This is a logical development of the pre-computer age, where the PA, as well as making all the arrangements on behalf of her employer, would take shorthand dictation and write up memos and letters.
Personal Assistants for Personal Lives
PAs for private lives are now being seen in this busy age of demanding careers, where people are prepared to pay someone else to do all the nitty-gritty tasks of day-to-day life in return for some of their time, the time that they would otherwise have spent organising all those things. Busy executives who find that they don't have time to arrange their dry-cleaning, get flowers and birthday presents on time, and make the arrangements for social events and holidays, are more prepared, these days, to rely on another person, or perhaps a service, to do those things.
It is not an easy thing to do for some people though, put their lives in the hands of someone else. If you take on a PA to handle your personal life then you have to learn the art of delegation. The key is to give clear and complete instructions, including when something needs to be done by and what information you need back, then leave the PA alone to get on with the tasks. The problems occur when the PA has done something that achieves the goal, but it hasn't been done the way you would have done it. In these instances you need to look again at the instructions you gave and modify them for the next time, or accept that their way was good enough, albeit different.
Virtual Personal Assistants
The latest development is made possible by the maturing of the internet into a tools that anyone, either in business or as a private individual, can use it, particularly as mobile use becomes more widespread. This 24-7 access has enabled the existence of 'virtual' private assistants, where you pay only for the services you need. The benefits of this are that you are not paying a salary for someone to be around all the time, and it removes the problems of you hiring someone who you don't get along with, which can make the PA relationship difficult.
The customer and the virtual PA are linked via a range of web-based tools that allow shared diaries, task management and communication, although of course they can be spoken to over the telephone if you are not connected to the internet, or if you simply prefer to speak to somebody. The PA will obviously be shared by many other customers, but you won't see that and, in theory at least, won't be affected by it. These services are making the PA function available to many ordinary people who would not have considered themselves the sort of people who would get a PA.
You might also like...