Life as a Children's Entertainer: A Case Study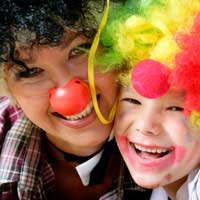 Zelanie Cooper is a children's entertainer from Tadworth in Surrey.
Why Did I Get Involved With Children's Entertaining?
Zelanie started her business because through having young children of her own, she realised that she could do better than a lot of the professional children's entertainers who were around in her area at the time, ten years ago.
"I became a children's entertainer because I felt that I could offer something a bit different to what I was seeing with the entertainers that were around 10 years ago.
"A lot of the entertainers were male, and while they did they best they could, I felt that some of them seemed to find it slightly difficult to relate to the children, and many of the people I saw just seemed to have a very generalised, one size fits all type of approach which did not allow for different children's personalities.
"Personally, starting the business also meant that I could work in a job I really enjoyed, but still spend time with my family. I could do it without having to go back to work full time, and it would be a fun business - something that would grow with me and my kids."
How I Got Started As A Children's Entertainer
"I started the children's entertainment business around nine years ago, and I taught myself. Getting the balance right took a lot of practice and experimenting. I'm always on the lookout for new and fun tricks to showcase on the children, but I find that for every three I buy, I'll usually only end up using one of them, because they just don't seem right, or interesting enough.
What I Do And Why I Love It
"I enjoy entertaining all age groups and like to make sure that I have different magic tricks for children of different ages, and their different situations. It really makes me smile when I'm up there doing my thing and I see the kids having a fantastic time. I enjoy seeing the children having a fantastic time.
"I work as a children's entertainer for all events – mostly private children's parties but I also take bookings from nurseries and schools. Because I enjoy it so much, I also like to raise funds for schools, nurseries and selected charities, so I'll always give them my time free of charge . I also like to sell balloon models and give the money to a worthwhile charity. One of the charities I'm closely associated with is The Children's Trust in Tadworth.
"I also work with local cub scouts and brownie packs, where I'm involved with training the kids in 'circus skills' so that they can qualify for their badges. I do this free of charge too.
"I remember one trick that caused a bit of a stir, I was carrying out a particularly unusual trick which involved pretending to cut up a very cute raccoon...and then of course magic him back together again. The kids were engrossed in the trick, and shouting out, "Where's the blood?" while it was the teachers who were hiding behind their hands and being squeamish. It just goes to show how bloodthirsty kids can be!"
HIRING HELP IS FOR SALE.
This website is for sale [more info].
You might also like...