Life as an Interior Designer: A Case Study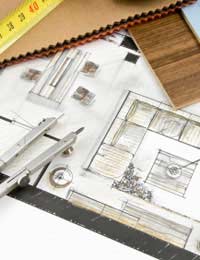 Carley Rimmer of Fusion Interior Projects is an interior designer who clearly loves her job. She has some advice about what to do if you're considering using an interior designer for a project in your home.
What Does an Interior Designer Do?
"The role of an interior designer is to help you visualise how you can transform a space into something that not only is unique to you as well as being fantastic to look at, but also practical and complimentary to the purpose of the space. Interior designers use various tools including mood boards showing samples and photographs as well as 3D visuals and computer tools to help you see the re-vamped space before committing.
"We can all pick items we like and throw them together to create a room but an interior designer adds something else – expertise and experience! We will inspire, organise and manage to ensure smooth implementation, no big mistakes while taking stress out of the equation. You can leave the hassle of sourcing, pricing and scheduling to the interior designer who will be a dab hand at project management. As an interior designer myself, there are three main points to consider to ensure that all runs to your liking."
Working With an Interior Designer
"It is important to have a rapport with your interior designer from the beginning so you can get the very best out of them. Be clear what you want, you may just need a little inspiration or a whole scheme from conception to realisation, the interior designer will be able to help you with a range of requests
Be Clear about the Budget
"Set out your budget and make it clear. Often a tricky subject and not one we like to talk about but you need to communicate your limits to move forward effectively. Without a guide the designer could well go off producing ideas that are completely out of your budget range which only means a waste of time all round.
"Interior designers can get those exclusive must buys at discount prices with our wealth of industry contacts to save you time and more importantly, money. An interior design service is a luxury that doesn't have to be expensive– just like a pair of jeans you have your budget ranges, mid-range right up to high-end products."
You Have to be Honest
Whilst the interior designer is there to provide ideas and inspiration, unless you really want to give the designer a free reign, it's wise to focus in on styles, fabrics, colours that you love to make the most of your time. Look through some magazines and flag up your favourites (as well as your no-no's) and you should expect the designer to take these into consideration.
How I Got into Interior Design
"I launched my business Fusion Interior Projects in 2007 and I love it! I focus on the residential sector but it doesn't stop there - interior design can be used for commercial to retail, leisure and hospitality purposes and my dream is to move into designing restaurants, bars and boutique hotels.
"Starting out in marketing, I retrained in interior design completing my Diploma last year after working on various projects for my friends and family. A born creative, I didn't want to hold back any more and took the step to feed my passion. I adore creating designs and creating an ideal sanctuary for my clients to retreat to and be proud to entertain in.
"I am enthralled by period properties and their rich characteristics. Staying on top of trends and inspired by everything and always looking for new ways to re-invent rooms, it is dangerous to get hooked on trends as the industry is as fast paced as fashion but you want it to last– unless you want an overhaul every year (which of course would be great news for us designers!)
"I hope I have managed to shed some light on the world of interior design! I am happy to answer any questions you have as well as offer tips and advice or even help you with your own project
You might also like...