My Career as Life Coach: A Case Study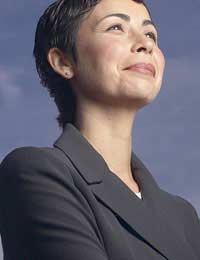 David Ferrers M.NLP has been a professional life coach since 1996, who specialises in Self-Help, Law of Attraction, Personal Development and making changes in your life. He got into life coaching by a happy accident.
"The accident that got me into Life Coaching happened in 1996. At the time I was running a marketing agency and I was frustrated with one of my clients because I found that his knowledge of marketing was weak. I couldn't find a training course that would fill all the gaps in his knowledge, so I offered to "tutor" him to help him to understand the subject. To my surprise he accepted.
"We both found the process of teasing out what he didn't know and filling in the gaps great fun and very rewarding. I was hooked on this method of helping people to learn and make changes.
Next Steps
"My next step was to take a course in Neuro-Linguistic Programming (NLP). The big advantage that NLP training gives a Life Coach is the large toolkit of techniques for enabling people to make changes in their lives.
"I later went on to get my Masters, the top qualification in NLP, because the more I worked with people the more I appreciated the value of NLP's foundations in the knowledge of what actually works.
"What I have grown to love about coaching is that it is based on a relationship that's tailored to the needs of the client. My role is to help my clients formulate goals in ways that they can see are achievable and then help them work towards their eureka moment."
Variety
"No two days in a coach's life are the same. In one day I could be working on issues like confidence, career change, anger management, fear of flying, lack of fulfilment, a bullying boss, low self-esteem, a feeling of being overwhelmed or using the Law of Attraction to find a new partner.
"One of my clients, an HR manager, strongly believed that she could make a real difference. She had passed all the CIPD exams but she had a very poor self-image. So, whilst part of her believed she could do it another side of her believed that she was unworthy. She was driving her boss mad because she was not delivering to her obvious potential. Happily she no longer drives her boss mad and now walks around the workplace with a huge grin on her face.
"Another client thought himself worthless. He could see no purpose in his life. Nothing seemed to give him any sense of fulfilment. It turned out he had a wonderful sense of humour and great comic timing. He is now an actor."
Finding A Good Life Coach
"How can you tell if someone who calls themselves a Life Coach is any good? I would suggest you look at their qualifications: NLP Master is good, Coach University is good. Find out how long they have been coaching. Look at what their clients say about them. Before you agree to any fee, talk to them to see how you get on and to get an idea of how they would approach your issue."
You might also like...