Running a Group for Children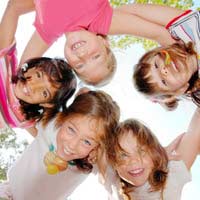 Running groups for children is generally a lot harder, and there is more red tape, than an adult group, but on the other hand there tend to be fewer political battles between the members.
Is It The Right Choice For You?
People who are considering starting or taking over a group for children will need to be sure that they can deal with children and control them at critical times. This might not be so much of an issue if the group is largely inside most of the time and particularly if the children's parents are there too.
Reading groups are a good example of this. With children seated listening to a story, or perhaps reading along with their own books, and their parents either in the same room or in another room close by, perhaps having a coffee and a chat, there are unlikely to be any control issues that can't be dealt with by a child's parent. For a group like this it's probably not even necessary to get a Criminal Records Bureau (CRB) check.
CRB Checks
CRB checks have made life harder for children's groups. Having to go through a CRB check puts off a lot of volunteers and the fear of being sued should something go wrong is making a lot of children's groups apply for CRB checks just in case. This is putting pressure on the CRB system and costing money for taxpayers, as CRB checks are free to voluntary groups.
What Sort Of Groups And Activities Are You Planning?
Assuming you can get over that hurdle, you need to decide what the group is for and what its basis is. There are many clubs and groups already running that you could affiliate to, such as Cub Scouts and Beavers, originally for boys but now taking girls too, or Rainbows and Brownies for girls.
There are other similar groups such as the Woodcraft Folk, more or less based on Scouting, and which one you decide to start as a community project depends on your goals too. If you are an active church goer you could start up a club for children of other churchgoers in the area, and it's likely that the church or religious hierarchy would be able to help you set it up. Or it could be based on a particular sport or activity, in which case the umbrella organisation for it will be able to help you out.
Plan Activities To Keep Children Busy
Making a children's group successful is all about forward planning, making sure that there are activities on tap so there's never a dull moment. Organise trips every so often, they don't have to be far, perhaps to the local fire station or a local business that might be of interest.
One Brownie Pack thoroughly enjoyed an evening at a nearby Formula 1 racing team factory, for example. Longer activities, such as day trips further afield, can be organised too, but they are best left for the weekend, not the evenings when the group usually meets.
Make Sure You Know Where You Can Get Help
You will need help to start a children's group. Make sure that you have other parents or adults who will help you run the group, particularly if you are taking subs and asking for contributions towards particular activities. As soon as money is involved you need to have records and transparency to avoid any problems. You also need to make sure that there is always a qualified first aider with the children.
But don't let the red tape and hard work put you off – it could be one of the most rewarding things you have ever done.
You might also like...