Running a Group for Teenagers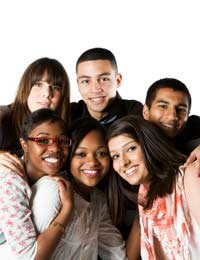 Running groups for teenagers is not a great deal different to running groups for children, at least in the basics of administration and the things that you'll need to do in order to get the group or society set up. But what is different is that a teenage group will present very different challenges in terms of keeping all of them interested and engaged.
Will Teenagers Come To Your Group?
The first thing to do is to make sure that there is a demand for the group that you are thinking of running. Teenagers may complain about the lack of things to do in their town but that doesn't mean they'll flock to your group. You also need to be clear about the age ranges that you will be targeting – something that may attract girls aged 13 to 15 may not interest boys aged 15 to 17 and there are often significant differences in attitudes and interests in children only separated by months.
This is somewhat easier if the group you have in mind is centred around a particular sport or pastime, like a jazz band, volleyball or chess. In that case the specialism is clear to the teenagers that come along and if they don't enjoy it, they'll stop coming. For those teenagers that remain, skill is still required to keep them engaged. Routines can be set but there need to be breaks and diversions as well, or it will start to go stale.
Starting A Branch Of An Existing Teenage Group
There are a number of generalist community groups aimed at teenagers such as the Scouts, Guiding, Boys Brigade and Woodland Folk. Many of these (although not all) originally sprang from Christian roots, but are now mostly multi-denominational, although each group may be tied to a particular local church or other religious meeting place.
There are other community initiatives designed to engage and develop teenagers that are affiliated to a particular group such as a branch of the armed forces, like the Air Cadets or Sea Scouts, or a particular social grouping like Young Farmers. All the political party have young sections too, although not all of them will take teenagers, they are more aimed at young adults.
If you are thinking of setting up a community group for teenagers similar to those mentioned above, then you can get a lot of help from the relevant umbrella association. They will give you the necessary training (although you may have to pay for it) and make sure you have the right qualifications to take on the role. They will also help with the red tape, for example giving you procedures for financial record keeping and balancing the books, and many other administrative procedures.
CRB Checks Will Be Required
Criminal Record Bureau (CRB) checks will be required for anyone who is in charge of teenagers, particularly if they are in sole charge, taking them out on trips or training them. This can unfortunately put other potential adult helpers from volunteering but it has to be done.
It is worth checking the CRB regulations on their website to make sure that CRB checks are required for everyone involved. Someone who comes in and makes tea and other drinks for teenagers at a village hall while a group is in session, for example, is unlikely to need to go through a CRB check.
Community Groups Need More Than CRB Checks
But CRB checks are not the only thing required and you should ensure that all your helpers have the necessary training and qualifications to help out. These qualifications might be specific, in the sport or pastime that your group is centred around, or general, like first aid or training skills.
You might also like...