Finding and Using a Personal Shopper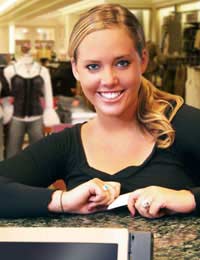 Personal shoppers used to be the preserve of the ultra-rich and VIPs but as with so many services, they are expanding and offering their services to mere mortals these days. There are usually three reasons why you might consider using a personal shopper, firstly, you have no time to shop, secondly, you don't know what to buy for other people, and thirdly, you don't know what to buy for yourself.
Too Busy To Shop
The first case is probably the most common. As with the trend for having a personal assistant for your private life, many people pick a personal shopper when their lives are too busy to want to spend time shopping, and if you're that busy then you probably ought to be making the kind of money that will allow you to pay other people to do things for you. In fact, many people who are using a personal assistant, or a PA service, will probably look to them first to do their shopping.
In-Store Shoppers
There are two distinct types of personal shopper attacking this market, those who are independent and those who work for a particular store. The in-store shoppers will usually operate from a section of the store, usually a department store or upmarket fashion shop, where customers can sit down and rest, perhaps have some refreshment. Shoppers then bring items from around the store for the client to choose from. This is usually for very well-off clients but not exclusively, it's often used by businesspeople who only have a few hours between meetings, perhaps on a stopover at a nearby airport hub, who have limited time but want to get things for themselves and for the family.
Shoppers who are tied to a specific shop will also put together collections of items even if the client is not there. This is handy for the second instance discussed above, when you don't now what to buy for other people. What you can do is pass a list of people you need to buy gifts for to personal shoppers in top-end department stores, together with an indication of how much you want to spend, and they will sort out a selection of gifts and send them out to you.
Independent Personal Shoppers
Independent personal shoppers are usually offering the service as part of a style or image makeover, and as a result focus almost exclusively on clothes and accessories. There are far more of these in London and areas inside the M25 but some will visit other areas of the country and they do exist in other areas where there is a high enough concentration of good shops and potential clients, such as Belfast, Glasgow, Manchester, the Birmingham area and many more.
After consulting you about your tastes, lifestyle and current wardrobe, the consultant will take you on a shopping trip to try on and select new clothes. So in this instance, there's no time saving as such, but what you are getting out of the deal is a fresh look at your wardrobe from an independent perspective.
Personal Shopper Service
Personal shoppers are relatively easy to find on the internet as most of them have been set up in the past decade or so and they have therefore embraced the internet and no independent shopper will be without a website. To find out is a particular department store has a personal shopper service, either give them a call or browse their website too.
You might also like...