Help With Home Security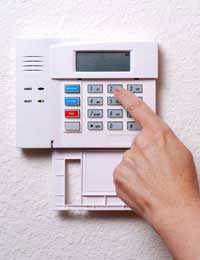 Home security is a booming business and more people are turning to the police and other experts to get help with making their homes more secure. In fact in many new build homes it's not unusual to find the wiring for an alarm being built-in in the same way that telephone points are, at least in more expensive homes. Gated communities, where people can't even get into the estate without buzzing an entryphone, are becoming popular in the United Kingdom too.
Assuming you don't live in a gated community, where can you turn for help with home security? The first thing to do is to decide how far you want to go with security. If you think you just need to install better window and door locks, then a handyman will probably be able to fit those without too much trouble. If it's anything more than that then it will make sense to consult specialist expertise.
Different Options
The trouble is that sometimes there's no right or wrong way to go, it's different for each individual and depends on your priorities. As an example, consider the issue of whether to leave your keys in the front door overnight. Some people will lock the door and hide the keys, which seems to make good sense, as it will be harder to get in that way. Then at least if burglars get in via another door or window, they will have a hard time getting anything big out of the front door.
However, if you are more concerned about saving your family from the effects of a fire than protecting your possessions, you might prefer to keep the keys in the lock, if that is your quickest way out of the home. Similarly, putting a high, solid fence around the back garden will hide your house from the view of the burglars, but it also, once they're over it, it could hide what they're getting up to from the neighbours.
Get Professional Advice
This is why it makes sense to get the advice of someone who knows what the threats are and can help you weigh up the pros and cons of the various security options on sale today. The Home Office has a good guide on their website and the police often have displays at local events where you can talk to them. Crime prevention officers are also available to make presentations to local groups such as Neighbourhood Watch Schemes.
One recent initiative the police have taken is to raise awareness of shed security, as burglars have twigged that they can often break into houses using the ladders and tools that are kept in them. This is more useful than law-abiding homeowners might realise because it means that burglars don't have to carry tools with them to and this prevents the police from arresting them for the offence of going equipped to commit criminal damage. This is often brought to bear if the police can't tie a burglar into a specific offence.Home security experts in your area can be found in the various telephone directories or online. It's also worth checking with your home insurance company to see if they have any connections, as many of them have tied up with home security companies. As a result of this they are offering discounts off the security equipment and lower insurance premiums once you have them fitted. Watch the ActionNew technology delivers new possibilities in the home security world. If you have broadband, it's possible to connect a home security camera system up to the internet so that you can watch your property, and more and more companies are now offering this option. This means that if your alarm goes off, you can make sure it's not a false alarm and call the police if necessary. But it may not be that much fun watching the house being ransacked while you wait for the police to arrive, so consider this carefully before taking the plunge.
You might also like...