Help with Furniture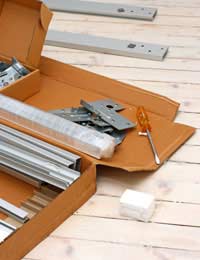 Lugging furniture around, buying, selling and replacing it; these things would all be a little easier if furniture didn't have to be so big and heavy, but it is, and that's why there's plenty of services that you can hire to help you out with it.
Shop Deliveries
Of course if you buy furniture from a shop, whether it's new, secondhand or antique, you expect it to be delivered. And in years gone by you would expect them to take the old piece away and dispose of it too, but that seems to have dropped away now. Delivery drivers have to fit as many drops in as possible in each trip, making it time-consuming to have to keep taking all the old furniture out to get the next new delivery in.
Tales have also been heard that delivery drivers won't take furniture far into the house or up the stairs these days. They are told not to do this because of fears of accidents or litigation that won't be cover by insurance if the delivery drivers do anything that's not driving or delivering.
Removals and Man and Van Services
Problems like this are probably best resolved by hiring a man-and-van service. Despite the name it's often two men, so that they can help each other with bulky items if the customer is unable to do any lifting. Look through the telephone directories or in newsagents' windows to find someone local who can help out by taking unwanted furniture to a local dump, and might well help you move pieces of furniture from room to room too.
Removal firms are also happy to help with most aspects of dealing with furniture. Although you might think that you can't call on them unless you are moving house, the reality is that most of them have a number of smaller vans that can be used for one-off deliveries or collections. They'll put a piece that's coming into your house in the right room as well, the only thing that will stop them is if it doesn't fit. So if you've managed to find a piano or something similar for sale privately but don't have a clue how to get it home, try the removal companies.
Help With Flat-Pack Trauma
There are also companies springing up who will help you assemble flat-packed furniture. People with a penchant for understanding instructions with no words and recognising small screws and lugs from poorly printed diagrams on scraps of paper are now able to sell their skills to those of us who are lacking in that area. Many of them will also go to the store and collect the items for you as long as you can identify them correctly from a catalogue or a part number.
Repairing Furniture
Finally, a word or two about mending furniture. With cheap imports the price of furniture in the United Kingdom is generally much lower than it was a decade or so ago. This means there is less of a market for secondhand furniture and consequently lower demand for people to come and mend furniture, unless it's for a valuable antique. The good news is that the availability of information on the internet has been able to fill that gap, at least if you are handy with a tool or two.
There are many sites that have information about different types of furniture and how mend them and tapping 'fix furniture' or 'mend furniture' into a search engine will bring up many of them. If you can't find the specific information you need, a lot of sites have forums where you can post a question and with luck, someone out there will have the answer for you. Why not try it?
You might also like...