Using a Company For Home Meal Delivery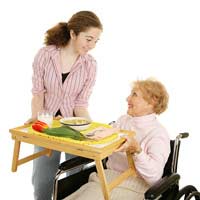 Using a company to deliver meals to your home often conjures up images of 'meals on wheels' services, the local council run meals delivered to pensioners and other groups of people in need. While those services still exist and are very valuable, there are also commercial alternatives, aimed at the time poor rather than the cash poor, that are increasing in popularity.
Meals on Wheels
Meals on wheels services exist in most regions of the UK although the type of meal delivery available will vary depending on the region. Some councils can still maintain a hot meal delivery service but many, those with large rural populations for example, cannot sustain this and so only deliver frozen food. Many of those who have had to resort to this type of service will lend a freezer to store the meals and a microwave to heat them up.
In most cases the relevant council will want to assess someone's suitability for a meal delivery service. Meals are usually provided once or twice a week to those who are too old or infirm to be able to make themselves hot meals very often.
One situation where a meal delivery service might prove helpful is if you or a friend or relative are temporarily unable to fend for themselves, perhaps while they convalesce. Most councils also allow the service to be paid for by somebody other than the person receiving the meals, so you can arrange for a service for an elderly relative and be sure that it will be paid for, even is you aren't in the area.
Meals on wheels aren't free any more either, most councils have to charge for the meals, and the charges vary around the country and according to whether the meal is hot of frozen. Many councils have a wide variety of meal options though, catering to most special diets, whether they are based on health, religion or philosophy.
Designer Meal Delivery Services
At the other end of the social scale, meals on wheels of a very different nature are being made available on a commercial basis to people who want to serve good food, but do not have the time or the inclination to make it themselves. Meal delivery services can provide anything from a freezer full of ready meals for the family to a full cordon bleu dinner service for hosts with important social events.
Most meal delivery services like this tend to be focused on the richer urban areas where they can reach a large catchment of potential customers, but there are some that operate nationally. Many will not know, or even care, whether or not the customer passes the food off as their own or admits that they did not make it themselves.
Diet Food Delivery
There are niche meal delivery services too, such as those who will deliver the food that is relevant to a particular diet and nothing else, so that people can only follow that diet. Of course, dieters using these services will still require will power as, of course, they can still pop out to the shops to buy anything else they want.
You might also like...