Types of Online Help Services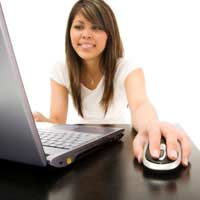 It's very true that you can get pretty much anything you want online these days, and that includes help around the house or garden. The Internet has opened up the market and made it easy to offer services at the click of a button, whether you're looking for someone that you can hire to come to your home – or someone who can guide you through something tricky actually online!
Hiring Personal Services Online
One area that people are slowly getting more accepting of is using the Internet to obtain services that they might find it hard to find on the high street. Counselling, advice and other personal services are available online very easily, but be wary of who you are handing your money over to.Type 'Online Counselling' into a search engine and you will be inundated with results. It's probably advisable to try and find a dedicated 'find a counsellor' site rather than just pick the first individual counsellor from a website. In order to register with a counselling website the counsellors will usually have to be qualified to a required standard, and registered with an organisation such as the British Association for Counselling and Psychotherapy (BACP).
For online relationship advice, Relate offers an online service, where you can get advice by email. It can be an expensive service – you pay £28.50 currently for a single e-mail – but you know that you will be getting help from a well reputed organisation. Just make sure that everything you need to discuss is included in the initial e-mail!
Hiring Practical Help Online
There are a myriad of ways that you can find and book practical help online. The Internet has made it easy to find a tradesperson through personal recommendation and there are now plenty of sites online that are dedicated to helping you find anyone to carry out work for you, complete with user ratings and information. The days of having to find someone in the yellow pages and hope for the best are thankfully long gone.
Websites such as Ratedpeople.com are useful, all you need to do is complete a description of the job that you need doing, your location, budget and timescale, and you should get replies from trades people in your area who are able to do the work for you. Once the person you choose has carried out the work, you are asked to rate them on the job, and so it's in their interest to make sure the work is done to a high standard and that you aren't ripped off!
You may also be rated online yourself as a customer, on how easy you were to work with, whether you paid and how clear your instructions were!There are many other potentially useful, practical sites on the internet were you can source someone for odd jobs, cleaning, building, home nursing, even teaching and translation, so the site is comprehensive and most things are covered.
You might also like...