Finding and Hiring an Interior Designer For Your Home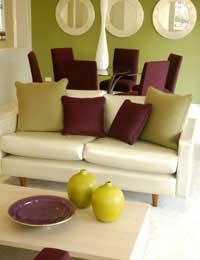 Using an interior designer is something that has become more commonplace after being popularised by television shows over the last decade or so. That popularity has increased the number of interior designers around and consequently lowered their prices although if you are after a top designer, you might as well just empty your wallet at them and stand back.
Find Someone You Can Work With
The most important thing, when hiring an interior designer, is to find someone who you think you will be able to work with. On the one hand, you're presumably thinking of hiring an interior designer because you want something vibrant, fresh and new, but on the other, it will need to be something you can live with, otherwise you're wasting your money.
This means that throughout the process you are likely to need to discuss options with each other, and when you may not completely agree one of you will have to give way. Those discussions can be difficult and you need to find someone who you will respect for keeping true to their ideals but who will also give a little to fit your taste and needs when necessary.
Finding Interior Designers
You should be able to find interior designers working locally to you by browsing lifestyle and design magazines, perhaps regional ones rather than national, unless you live in London or another large city. The internet should yield results too, as a website represents an excellent way for a designer to present their style to the world and it can be treated as part of the selection process. If you don't like their website, then you may not like other things they've designed.
As with the hiring of any help, you ought to see more than one contender for the job, three is really the minimum. With other types of contractor or service that you are hiring this is usually to get cost quotes for comparison, but with a designer, although you need to talk about what is required and how much it will cost, it is much more about meeting them to see how they work and focusing on that all-important relationship.
You will get more out of meeting prospective designers if you have done your homework. Have some ideas of how you want to use the spaces in the house, and a few weeks beforehand, start a scrapbook and put pictures from magazines and newspapers in, so that a designer can get a handle on your likes and dislikes. The key is that you need to be able to tell a designer what you want, while at the same time being clear where the designer can expect to have free reign.
Working with a Designer
Once you have engaged a designer, they will talk to you in more detail to try and work out what you need and what your preferences are, and probably take photographs of the area to be worked on. They will then come back with proposals, in sketch form or computer-generated, and possibly a 'mood board'. This is a lightweight board onto which samples of fabric, paint colours, photos and other items have been stuck, representing the mood that the designer will create. This is a very useful tool for sounding out how adventurous the client will allow the designer to be.
Don't forget that although the designer will have been hired to present new and fresh ideas that it's still your home and your money that's being spent. Take time and care selecting your designer and once you've picked someone, make sure that you give them time to present and discuss their ideas with you, to avoid expensive mistakes. The last thing you want to do is pay them off, wait for them to leave the house, and then reach for that tin of magnolia paint!
You might also like...