Hiring a Cleaner For Your Home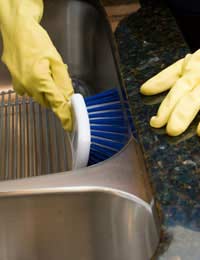 Cleaners or dailies, are probably the most well known form of help in the house. The reasons for having a regular cleaner are many, a large family home with lots of children making a mess, elderly or infirm people who find it harder to do the work, or, increasingly these days, people working from home who find household drudgery more diverting than getting down to work!
Local Cleaners
There are two traditional ways to find a cleaner, word of mouth and the newsagent's window. In many areas a good cleaner is a valued possession however, so those who have found a treasure can be reluctant to sing their praises too highly for fear of them being poached. The other side of the coin is that cleaners who are not so good, or spend a lot of time chatting rather than cleaning, get glowing recommendations from their customers so that the chances of getting rid of them increase. So it's as well to take recommendations with a pinch of salt, and assess how good a friend they come from before taking the plunge.
The newsagent's window is a good place because cleaners usually need to be local; it's not likely to be worth their time coming a long way to do the job. It can work both ways, in that you can place a wanted ad and cleaners will also post notices looking for work.
Agency Cleaners
In some areas though, there are simply not enough people who want to be cleaners, and lots of busy professional families with working parents who would love to employ them. In such areas cleaning agencies spring up to fill the void, either dedicated to domestic cleaning or sometimes as a branch of an agency that deals with office cleaning, or perhaps one that caters for nannies and other domestic appointments too.
There are both advantages and disadvantages to using an agency. The advantages are that you have an overall person in control who customers can talk to if they are unhappy with the service or if think the cleaning lady is taking liberties while in their home. Employing a cleaner directly means people have to have those conversations face-to-face with the cleaner, which some find very difficult.
One disadvantage is that the cost is likely to be higher, because the charges have to cover the agencies administration cost and overheads, and employing a cleaner direct is likely to be a cash-in-hand transaction. Secondly, you may not be able to guarantee that you get the same person every time, making it difficult to build up a relationship with someone who knows the house and knows how you like things to be done. This can, of course, be an advantage too, as it means that you should get a cleaner every time you want one, whereas with a local cleaner there won't be any cover if the usual person is sick or on holiday.
However you find a cleaner, the approach would then be the same. Think about the duties that you need covered, write them down, and go through the list with your prospective cleaner to make sure that they will do them, as some cleaners, for example, won't do ironing or shopping, whereas others are happy to do anything, within reason. Check also that the times and days that you want help to be provided are available in the cleaner's schedule, although with an agency that is less important. Make sure you both know how it's going to work in detail, for example who will buy the cleaning materials, whether or not the cleaner will have a set of keys and so on.
Tried and Tested
Finally, suggest a trial period, perhaps three or four weeks, so that you can get to know each other and assess how the arrangement is working at the end of it. This is perhaps more important with a directly employed cleaner, as an agency can send a different person, but still worth doing. A cleaner who gives 100% satisfaction to one person may not be any good in another household simply because of a clash of personalities or differences in the way the new employer likes things done. Because a trial period gives both parties a pre-arranged time when they both know this is to be discussed, they can call it a day if it's not working out without it being a big deal.
You might also like...