Why Hire Home Help?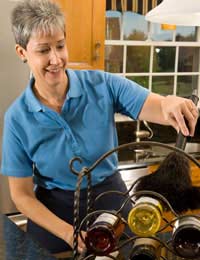 Many households particularly those where the parent or parents are working full-time, get help around the house these days, it's no longer something that only rich people can afford to do. At one end of the scale there are those who use a cleaner for a few hours a week and at the other there are grand houses that need housekeepers, cooks, butlers and the like to keep them in order.
Getting a cleaner who comes in once or twice a week is very common and for many people it takes a weight off their shoulders, allowing them to enjoy their free time more, perhaps being able to spend more quality time with their children. Good cleaners are often hard to find and jealously guarded by those who have found one, to prevent them from finding other houses to clean and so losing their services. An advert in a newsagent's window is probably the best way of finding one if word of mouth fails to do the trick.
For those who have specific jobs they want doing or perhaps don't want someone else rooting around in their home, there are services that will help out, either at the customer's home or at their own premises. For example, in many populous and wealthy areas there are now services that will come and take away the weekly washing and perform all the laundering, pressing and ironing, and deliver everything clean and beautifully pressed without the householder having to lift a finger. They will also do the dry cleaning and specialist valeting tasks.
For the more do-it-yourself oriented jobs, a handyman can be very useful. They will not generally be expected to tackle something as technically challenging a plumbing or heating problem, but can do all the little jobs around the house that some people can't, or don't want to. Examples are perhaps changing lightbulbs that the householder doesn't feel that they can reach confidently and in safety, screwing fittings back on to walls, or assembling flat-pack furniture. This is unlikely to be a regular service like a cleaner but someone who can be called upon to help out as and when required instead.
Cooks and caterers are in high demand these days as busy householders find it harder to make the time to cook homespun meals but feel under pressure to deliver healthy meals prepared from scratch with unprocessed or possibly organic ingredients. Having a live-in cook is probably still the preserve of the well-off but many people can occasionally afford a caterer to provide the food for a family occasion or dinner and will be happy to admit that they've done so. In between those two extremes there are caterers and cooking services who will bulk cook quality meals for the householder to freeze and then serve up later, and it's up the customer whether they admit their provenance or not.
At the upper end of the price spectrum are the houses that need housekeepers and butlers to keep them spick and span. This might be simply be because of the sheer size of the house; many people, when moving to a larger house, don't think of the extra daily upkeep until they start doing it every day. Butlers did appear to be becoming an anachronism but as economic growth widens the gap between rich and poor there are an increasing number of people becoming wealthy enough to afford a butler.
Whatever your needs, whether it's an hour or two to help out or a full-blown household team for the new manor house, there are plenty of people out there in the increasingly service-led economy of today's United Kingdom, who will provide what you are looking for. All you need to do is decide what you want and how much you are prepared to pay for it, then go out and see who's willing to provide it for you.
You might also like...