Hiring Cooks and Caterers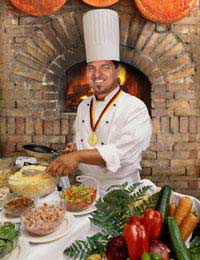 There are distinct trends changing our society with regard to the way we cook. After the Second World War most working class and lower-middle class people would have prepared and cooked their own food, and it's quite likely that they would have grown a lot of it too. This is evidenced by the large gardens provided with houses that were built during that period. The supermarket revolution, along with cheap fridges and freezers, changed all that and today's housing estates come with postage-stamp sized gardens that are easy to maintain.
The development of better quality ready-meals took us further away from our food and for a while it looked as though people who cooked for a living might be squeezed out. But these changes had another effect; many people now don't have as much cooking knowledge as our forefathers. So the market still exists for cooks and caterers, either be for special occasions, or for people who don't want to cook and can afford to pay someone else to do it.
Lavish Celebrations
The increase in disposable income that many people have enjoyed means that family occasions have become more lavish, and catering firms have expanded as a result. In particular spending on weddings has rocketed since they were de-regulated in the United Kingdom and people can now make so many more choices about where and how they marry. This has had a snowball effect, as expectations for each ensuing wedding have grown, and celebrating other events, such as milestone birthdays and anniversaries, in a similar fashion has become more common.
Smaller Parties
But it doesn't have to be all about large bashes. Many people ask caterers to cook and serve for dinner parties in their homes, so that they can enjoy themselves rather than miss all the chat and fun as they slave away in the kitchen. People with second homes in the country often hire a local cook to go in and cook a weekend's worth of food to put in the freezer, so that they don't have to spend their precious weekend minutes shopping and cooking, and can relax instead.
Check Them Out
Regardless of the reason for hiring caterers, asking around for recommendations is always a good idea or, failing that, local cooks and caterers can usually be found in the Yellow Pages or on the internet. People who have used a firm in the past will not hesitate to give an account, either glowing or rotten, of their lavish celebrations, so the results can usually be relied on. Once there is a short list, ask them to provide typical menus and samples for their food and make sure they have different options on hand for the ever-growing army of people on special diets or with food intolerances and allergies.
Flexibility
Caterers usually call on an army of serving and cooking staff that are employed just for an event, with a core staff of permanently employed people, which enables them to be flexible in terms of the numbers they can cater for. But it is worth checking that they have experience in providing for the same size 'do', whether it's smaller or larger than they are used to, as the dynamics of a very large, or very small, group demand different approaches.
Whatever the situation and whoever you choose, be specific about what you require and make sure that it is written down and agreed on both sides This should include the cost, itemising what's included and the price of any extras on the day.
Who's in Control?
Finally make sure that you know exactly who will be in charge on the day, which will probably be either the proprietor or one of the managers if it is a larger firm. That way you know you are making your needs known to the person who will be in control on the day. Then everyone should be able to relax and enjoy themselves.
You might also like...