Hiring Housekeepers and Butlers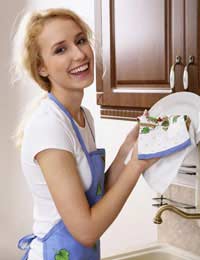 Household staff were de rigueur for the upper and middle classes only half a century ago and many large houses, regardless of the class of the people who live in them, still need staff to help run them. The housekeeper and the butler were often the two senior staff 'below stairs' who would have had staff reporting into them in larger properties.
In Days Gone By
Housekeepers traditionally handled the care of the house and its upkeep in terms of keeping everything spick and span, while a butler would be in charge of the catering and social side of things such as meeting guests, the dining room, wine cellar and kitchens. These days, when class is less important to most people, it's more likely that a cook will be in charge of the catering and that the duties of a butler are done by a personal assistant, but the butler still exists and there are a number of top-class training establishments providing butlers around the world.
Today a butler will still look after social arrangements and ensure that everything is proper and correct in the dining room, but increasingly they will be asked to take on other duties, such as driving, as well as the more traditional jobs like cleaning the silver, valeting clothes and cleaning shoes. In a country setting the butler is likely to need to be able to prepare and clean hunting and sporting equipment such as boots and guns. And although they might not get involved in the setting up and running of a hunt or a shoot, they may well be required to serve at a picnic on the moors.
The role of the housekeeper is less changed these days although increasingly they may be the only person employed to look after a house, and outside contractors will provide specific services such as dry cleaning or laundry. Housekeepers usually live-in, that is, live in rooms or perhaps an apartment or cottage on the grounds of the estate.
Finding Your Butler or Housekeeper
The search for a butler or a housekeeper is likely to mean approaching one of the many household staff agencies that cover these positions. Most of these are based in London or the South-East and operate nationally, although there are regional ones too. There are also specialist agencies that focus on butlers, but not many that deal only in housekeepers. To find an agency, have a look through the sporting and country lifestyle magazines, or search the internet.
If you would prefer to hire direct, then placing an advert in the magazines mentioned above is the best bet. Beware that this means that you will miss out on the stringent checks on applicants' backgrounds, such as police checks, that a good agency should do. You should therefore insist on references and follow those references up properly, as it's easy to forge all sorts of documents with just a computer and a decent printer these days.
Take Extra Care When Surfing
Finally, beware of the things that searching on the internet can lead you to. One site that came up during innocent research for this article was a site that offers butlers for hire for one-off events such as hen parties. The problem was that they came nearly naked!
You might also like...