Finding a Handyman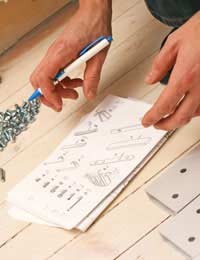 Trying to find a reliable handyman who you can trust and who will turn up at the agreed time seems to be the holy grail for some householders. But what is a handyman and where can you find one?
Wide Range of Jobs
Being a handyman is a very expansive role. Essentially it is someone who can do all those little jobs around the house that some people seem to find easy, while others either can't do them, or worse, think they can, but whose DIY disasters wouldn't look out of place in a reality TV programme. Builders, plumbers, electricians and other professional tradesmen are far too busy doing the jobs they are trained for to be able to spend time doing those jobs that are too small for them, so the handyman fills those gaps.
The jobs that handymen can do go from hanging shelves and other fitments through to the lower end of building work. Outside the home it might be painting walls, windows and fences, installing fascias and guttering or fitting lights to the house. Inside, apart from screwing things into walls securely it could be sorting out minor plumbing problems or re-fitting bathroom or kitchen units, hanging doors or putting up curtain rails. A lot of interior jobs are electrical, such as replacing a light fitting, fitting dimmer switches or changing sockets, that sort of thing, but beware as anything more complex than that will need a properly qualified electrician these days.
There are also tasks that handymen can do that might be beyond some people, particularly the elderly or infirm. This could be help with transporting a heavy or bulky item, clearing out drains and gutters, or even replacing bulbs that are out of easy reach. One service that's grown in popularity over the last decade or so is flat-pack furniture assembly, not really a surprise!
Looking for a Handyman
As was indicated earlier, however, the key is finding someone you can rely on. As ever, personal recommendation is the best method, as you get a reasonable idea of how professional the person is and people generally won't recommend someone who has done a bad job for them. It's also worth trying extended word of mouth, asking at groups or social gatherings that you might belong to such as churches and clubs.
Failing that, that old stalwart, the newsagent's window, is a good place to search for cards advertising a service. If no-one suitable turns up, try local newspapers under the 'Services' section of the classified ads, or a local newsletter or advertising freebie paper if there is one.Once you've located someone, find out what their scale of charges is and make sure they stick to it. Beware of asking them to do 'just one more thing' while they are in your home as you could well be presented with a surprising bill at the end of it. Get a quote first and if you do need them to do extra jobs that you remember while you are there, make sure you know how much more they will cost.
You might also like...