Finding a Child Minder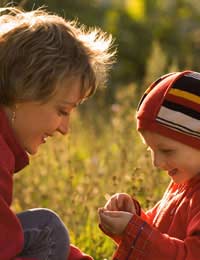 Childminders look after other people's children and sometimes their own as well, while their parents aren't around, usually in the gap between the end of school and parents coming home from work. Childminding used to be a very informal affair but in the last decade or so it has become much more regulated in order to safeguard children. If someone of the same family, such as a grandparent or an aunt, is looking after the children then the regulations don't necessarily apply.
Anyone who looks after children for more than two hours a week has to register with the appropriate regulator, which is OFSTED (the Office for Standards in Education) in England, the Care Standards Inspectorate for Wales and the Care Commission in Scotland. Although the details of the regulations differ slightly between the three authorities, in essence the concept is the same. There must be regular inspections of the homes, the childminders and any other adults in the home must be police checked, and the carers must have regular first aid training.
The main difference between the countries of the United Kingdom is with the limits on the numbers, and the age mix, of children that can be cared for at any one time. In Scotland it is no more than six children under 12, and only one can be under one year old. Of the others there can only be three that are under school age. In England and Wales childminders can look after three children under five and three children under eight years old. In both cases these numbers include any children belonging to the childminder who might also be in the home.
Because all childminders need to be registered, it's simple to find someone who has registered properly by going to the local authority. Checking their website should yield a list of registered childminders near where you live, or they can be phoned or visited. As well as having the police check for any convictions, they will also have had the fire brigade round to check the safety provisions in the home such as having fire alarms, blankets and extinguishers available and sufficient fire exits for up to half a dozen children in the house.
What to Look For
Of course, being registered is no guarantee of quality care. It makes sense to visit a number of candidates and look at the toys and provisions made for children and sum up the character of the person too. If possible, go round when there are children there so that you can see how well they play, what they are given to keep them occupied and how the childminder deals with the interaction between the children.
There may be other criteria though. Not all childminders have the same hours and may not be able to keep your children for as long as you need, and you may also need someone who can pick children up and drop them off, which not all of them do. Also payment policies may differ, some might not require payment if you've arranged to miss a day, but will want to be paid if they have made themselves available and your children do not need care, for a reason that is outside the childminders' control. Others might insist on being paid for all the pre-arranged hours of a week even if you don't need them on the odd day.
Word of Mouth
However, the best way of getting a decent childminder is almost certainly word of mouth. Recommendations from other parents in the playground are worth their weight in gold so get out there and get your ear to the ground!
HIRING HELP IS FOR SALE.
This website is for sale [more info].
You might also like...