Advice on Hiring a Nanny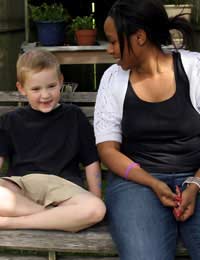 When looking for a nanny to look after your children there are two key things to keep in mind. The first is that like many other things in life, you get what you pay for. The second is that you need to think about what you need to make sure you can find someone who will fit the bill and get on well with your family.
Consider Your Needs
Taking the second one first, ask yourself what help you would like and what will fit in with your family situation. How old are your children and how many are there? You might consider that someone a little older will have a better chance of controlling three or four younger children, or, if you have teenage children as well as a toddler, perhaps a younger nanny might be more acceptable to the older children.
Perhaps you have enough room in the house and enough money to get a live-in nanny, in which case they can come from anywhere in the country, or even the anywhere in the world. But if you're not in that situation, then you'll need to look closer to home. How many hours in the day do you need nanny support? Is it for the whole day, if you're a working parent, or just a couple of hours in the day to allow you to catch up on everything else in life? Think about whether or not you would want to have the same person every day, as a popular innovation at the moment is for two nannies to share a client. The cost is the same, but the nannies get more flexibility to help them manage their own commitments.
Specialist Nannies
There are some specialists in the world of the nanny; for example, if you have a newborn baby to care for, then a maternity nanny will be required. Or, if you're a multi-lingual family, you might want to get a nanny who speaks the appropriate language as well as English. Or do you want a more general nanny, who will help out with the household duties (but just those associated with the children) as well as look after the children? Do you need a nanny that can drive, in order to take the child or children out during the day?
Agencies
If your requirements are fairly stringent, you would probably want to consider using an agency to appoint a nanny. Apart from the fact that they will screen the applicants to make sure that they are on the level, they will also check their qualifications and references. There are effectively three levels of agency, the first will take care of everything; having appointed the nanny they will also take care of paying them and managing the administration of employing a person, and charge you each month or week for the service. At the second level, an agency can find a nanny for you, and vet them, but once they're appointed the administration of the nanny's employment is handled by you.
The third level is relatively new, and has arisen as a result of the internet developing into a usable tool for most people. This has led to the arrival of bureaus where nannies and employers can both register, then find each other through the website. These agencies don't play a part in the appointment, in much the same way as buyers and sellers find each other on eBay but eBay takes no active part in the transaction.
Get the Nanny to Come to You
There are a number of reasons why you may not be able to use an agency. If you live in an area that's not very densely populated, there may not be enough customers and nannies to support agencies. Or it could be that your requirements are simple and you only need a few hours a day, so you don't feel that you need someone bristling with qualifications.
In that case, although it still might be worth putting adverts on some of the website-based agencies, a card in the newsagent's window or other local advertising, such as local papers and newsletters, might well help you find someone in the area. Asking around socially, particularly in the school playground or in churches, might well deliver the goods too. Getting someone who has a history and roots in the area also means that you are more likely to be able to find out about their background. If you can take a live-in nanny but don't want to use agencies, then there are numerous national weekly and monthly magazines that take adverts for nannies.
Be Clear About What You Want
Once you've decided what hours you want, how qualified the nanny needs to be and whether or not you want an agency to take the strain with the admin, you will be able to settle on a budget. A live-in, agency appointed nanny with a full two years of qualifications behind them would be at one end of the cost scale, while a local child-minder being paid cash-in hand for a few hours a week will be at the other end. Once you have some idea of the level of payment that you want to pay you can start your search.
You might also like...