How to Interview a Potential Child Minder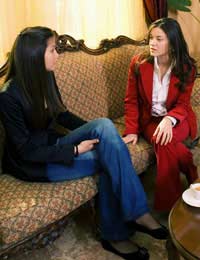 Interviewing for a childcare position is very important and the specific questions you might want to ask will change depending on the sort of childcare that you have decided to go for. For example with someone who will be living with you all the time, you will almost certainly want to spend more time with them than someone who will only be helping out for an hour or two on certain days. Even so, it's still important to make basic checks.
Registration and Police Checks
Any childcare professional will have been registered and police checked and will expect you to ask them about this. It's perhaps not necessary if you are just checking out local teenagers for potential occasional babysitting, but even then you should probably find out things about them, such as whether or not they smoke, and get names of other people they've babysat for so that you can get casual references, and ask how much experience they've had of looking after children of a similar age.
For anything other than babysitting, you should be looking for written references and checking that they are registered with the relevant authority. Childminders, playgroups, crèches, nurseries and out-of-school clubs for under-eights must all register with the Care Standards Inspectorate for Wales, the Care Commission in Scotland or OFSTED (the Office for Standards in Education) in England. The registration process includes having every person involved checked out for any criminal past and premises being checked for conformance to safety regulations. As nannies aren't covered by these requirements, there is now government guidance on choosing a nanny on their SureStart website.
Interviews in the Home
Once you've checked that the people you are thinking of using conform to all the requirements, it's essential to see them in person. For nannies it's best to see them at your home, as they get a chance to see how you live as well. Ask them about the kind of families that they've stayed with, what their duties were, and how they dealt with them. You can also ask them about situations that they have had to deal with when things went wrong, to find out how they coped, and try and work out what their approach to childcare is, so that you can get someone whose ideas are generally similar to yours.
Personal Visits
With childcare that won't take place at your home, such as childminders, playgroups and the like, it's best to see their premises first hand and go when there'll be other children present so that you can see them in action. Don't be put off by any excuses as to why you can't go when there are children around, that should be viewed with the utmost suspicion. Ask the same questions as for a nanny and try and ask them in an open manner, phrase your questions so that they encourage people to open up, not questions that can be answered with a 'yes' or a 'no'.
For example, don't ask 'do you treat the children in your care well?' as that's inviting them to say 'yes', which we all know is the answer people want to hear. Instead phrase it something like: 'what approach do you take to looking after the children?' which gives fewer clues and should elicit more than a one-word answer.
Stick to Your Guns
Sometimes interviewing people can be a really hard thing to do, but it's important for you children that you get the best and most appropriate care for them, as anything less won't do. You don't want to make the interview a war, but you do want to make sure they answer your questions, don't fill it all in for them when the conversation begins to sag. Although it might be uncomfortable pushing people to give out information on themselves, try to detach yourself and not worry too much if they start to be uneasy, it's more important that you see the truth.
You might also like...