How To Hire Tree Surgeons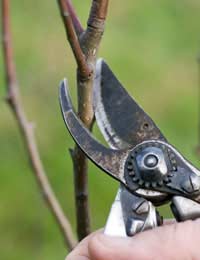 Most of us will probably only call on a tree surgeon once or twice in our lives if that, but if there is ever a need for one, it's far better to get someone in than try the do-it-yourself route. You only have to watch an episode of 'You've Been Framed' to see the dangers inherent in tackling tree felling or large-scale pruning, with people and property being damaged when the unexpected happens. Those incidents won't be unexpected to a trained tree surgeon.
So why would you need a tree surgeon? Although they're usually associated with felling and lopping large branches of trees, they can also be called upon to diagnose ailments and see if a diseased tree does actually need felling, or can be treated and saved. If that's not the case, then the tree surgeon can slowly and safely cut the major branches down, ending up with a root that can be left or removed, depending on whether or not there is a danger of further disease spreading from it. In extreme cases, tree surgeons can call in a crane to help support the higher parts of large trees while they are being cut down.
If a tree just needs pruning, this process is actually helping nature. If trees are left to themselves, they will self-prune by cutting off the supply to lower, exhausted limbs so that the energy saved can be diverted into higher, younger branches. These abandoned limbs will eventually fall off, so in a domestic situation, it's better to get someone in to lop those branches before they come down by themselves, potentially injuring someone.
It might also be that a tree has grown too large and is restricting light into your house or keeping a large part of your garden barren, because trees will take moisture out of the surrounding ground as well as stop light getting to the ground. Tree felling in urban areas is nowadays often because of insurance companies' fears that they are causing subsidence in buildings. This goes against the views of many arboreal experts, who believe this is more down to the drying out of the ground in the UK, caused by the lower rainfall levels over the last couple of decades.
Many large branches are pruned before they start being cut off by the tree itself, in order to control and restrict growth to a manageable height or canopy size. Pruning to promote fruit production is probably not the province of a tree surgeon, except in neglected domestic trees perhaps, as commercial fruit trees are regularly pruned to keep them small and make harvesting easier.
Usually the traditional advice about getting at least three quotes would be trotted out here, but, although there are tree surgeons in most areas of the United Kingdom, they're probably not thick enough on the ground for many people to be able to call on more than one or two. They can be found through telephone directories or on the internet. As there aren't so many of them, just putting 'tree surgeons UK' into a search engine is enough to bring up relevant results.
Finally, if you do call in a tree surgeon, they almost always take all the cut wood and branches away as well, which for most people is a bonus. But it's worth remembering that this is actually your property, so if you have a wood burning stove and a place to store the wood to let it dry, then you'll have a good fuel store for the winter. The smaller branches can also be used, if you have a heavyweight garden shredder or chipper, to provide mulch for flower and vegetable beds. So think twice before it all gets carted away.
You might also like...