How to Hire a Gardener and the Tasks to Allocate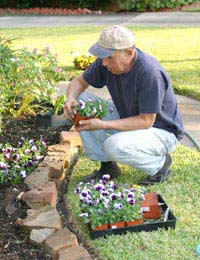 For those people who have the time the energy and the inclination, gardening is a pleasure that they would never give over to anyone else. But what if you don't have the inclination, or are getting older and find the stooping and bending too much, or are simply too busy to want to spend your precious weekends mowing the lawn and taking all the cuttings and debris down to the local tip? Then it's time to reach for the Yellow Pages and find a gardener.
What kind of service you need depends on the size of your garden, your locality, your budget and the services that are available in your area. If you have an ordinary garden but can't physically do the work, then a local person with a few spare hours each week is probably the right choice. Word of mouth is the best way of finding someone, as you get an idea of how good they are, but failing that, either put up a card in a newsagent's window, or have a look to see if anyone is advertising themselves for hire.
For larger gardens, say up to a couple of acres, then you are likely to need someone who can come more regularly, or perhaps a team of landscape gardeners. Landscape gardeners will tend to do more than maintain a garden, they'll tend to discuss the garden with you to find out what you want out of it and make improvements, plant new areas out and make changes that fit in with what you're looking for. They will also have a number of employees, so if someone's sick then they'll be able to send someone else, whereas if you're relying on one person then there's no cover like that.
If your garden is anything bigger than that then you are likely to be looking for something a little more permanent, a live-in gardener, or perhaps a couple who can share cooking, gardening and housekeeping duties in return for accommodation in the grounds and a salary. This isn't as unusual as it sounds and there are plenty of agencies that provide this sort of support that can be found in the telephone directories, or prospective employers can advertise in regional countryside magazines and The Lady, among others. Of course, you need to have a spare house or flat for them to live in.
One service that's become popular in the last decade or so is lawn care, delivered by specialists who only treat lawns. These are usually franchisees who will have been given a territory to look after and trained in using the products and systems of the company they have bought the franchise from. To find someone offering this service in your area, the best way is to look on the internet as the overall franchise controller is almost certain to have a website that will give you details of the person who has been allocated your area.
They will come and treat the lawn and take care of it all year round and as the vast majority of properties in the United Kingdom have a large proportion of their garden given over to lawn, it might be that this is all you need, as getting the lawn out of the way may only leave you with borders, trees and shrubs to look after.
HIRING HELP IS FOR SALE.
This website is for sale [more info].
You might also like...