Car Servicing and Repair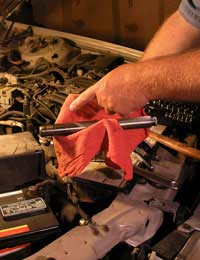 These days there aren't many people who can service and repair their own cars as they're so full of technology that there's not much left for the average person to work on. Almost the first thing that car dealers and garages do these days with any car that come in for servicing is plug it into their computer systems for diagnosis. Even so, it's worth having a weekly check around the car, examining the tires and bodywork and making sure that lights work and all the fluid levels are correct.
Dealers and Garages
But with anything past that, it's down to the garage. For a long time dealerships have been the place to go for new-ish cars as keeping a full service history from a dealer in the right brand of car is considered a good way of keeping up the resale price of a car when the time to sell it comes around. While this is still true, European competition rules are now in place that reinforce the consumer's right to service their car wherever they want to, as historically dealers' prices are higher than those of garages without a manufacturer's franchise. So manufacturers cannot now, for example, refuse a warranty claim if a vehicle has been serviced by a garage other than the one where the car was purchased.
That then opens the scope for people to get their cars serviced by garages that are more convenient, although it's worth checking that they have the correct diagnostic tools for the make of car and have had mechanics trained on that make. Most of the technology on modern cars is proprietary, which is to say that, for example, a Ford diagnostic computer won't work with a Volkswagen, which is another ruse to keep people going to dealers rather than ordinary garages.
Tyre and Exhaust Shops
For replacement of basic equipment that wears out often, such as brake pads, tires and exhausts, specialist workshops have sprung up in the last thirty years or so that can do this and it's often a lot cheaper than a dealer or a general garage. Because they have a smaller target market they can keep a wider range of spares and, as they are often part of a large chain, they can get those spares at volume discounts from manufacturers.
There are two things to be wary of. The first is that in adverts they often quote a low price for a common model, say an exhaust for a Ford Focus, but the prices on other cars aren't so keen. It pays to shop around on the phone to get exact quotes before choosing where to go. The other thing is counterfeit parts. It's one thing to put a 'pattern' part on a car, that is, one made by a company other than the manufacturer but of similar quality, and quite another to be sold a fake.
Pattern parts should be as good as the original, although the customer should ideally be offered the choice, but fakes can be made from completely inappropriate materials and not operate properly in an emergency situation. It's not easy for an ordinary punter to spot fakes but a trawl on the internet may give some clues before going out to get the new parts fitted.
Repairs
When a car needs repair following an accident it's often the insurance company that chooses the repair shop, but increasingly there are other options. There are now mobile services that can visit your home or workplace and 'pop' out small dents and polish out scratches, a service that's ideal if losing a no-claims bonus will cost you a lot more, or if you want to tidy up a car before selling it.
Whatever you need doing on your car, be wary of shopping around on price alone. The most important thing is safety, and saving a few pounds here and there won't be any use if you end up in a serious accident because of poor quality parts or slap-dash servicing.
You might also like...