Clothing Repair and Alterations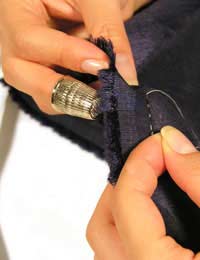 Once upon a time all high streets would have had a shop that did clothing repair and alterations but with the advent of cheap clothes and the short life of clothes because of fashion cycles, it is now cheaper to buy a replacement than repair or alter clothes. But what if it is an outfit for a special occasion, or a sentimental garment, or perhaps a specialist piece of sportswear? Where can you now go to find those wizened old crones with treadle-operated sewing machines and tailor's dummies?
Shops Do Still Exist
The good news is that not all of these shops have disappeared, although it depends on the demographics of each area. Any town or city where there is a large number of older people with money is likely to still have one. This is mainly because older people will have good quality classic clothes that they like wearing and would prefer to keep them going. This is particularly true if the only other option is go to a high street clothing store to wade through hordes of quickly put together clothes that are inappropriate for their age. These sorts of locations are also likely to have kept a few traditional made-to-measure clothing stores who might also do repairs and alterations.
If you can find a specific shop where the repairs are done on site then the service options are much greater than someone who has to send the clothes away. Many alteration shops will offer same day turnaround for simple tasks such as replacing a button, hemming or re-sewing a split seam. This is a great boon for those days when a button inevitable pops off a suit mere hours before that important client meeting.
Services as Add-Ons to Other Shops
In other towns large enough to support a dry cleaner, laundry or shoe shop, alterations and repairs might be available through those shops. This will almost always involve sending the clothes away to a person or firm who does all the repairs and alterations for the surrounding area, using shops in the towns as outlets. This is fine for repairs, where it's not necessary that the customer be present, but it does cause a problem for alterations, where it's imperative that the customer is there for fitting and measurement. The only other option is to keep scanning local newsagents' and supermarkets' shop windows to see if perhaps someone working from home has put a card there to advertise their service.
Specialist Clothing
An area where alterations and repair have survived is in specialist applications, such as wedding attire, or sports wear. With weddings, it's quite common to have bespoke dresses in any case, and as these sometimes take months to prepare, people's shapes often change slightly in the meantime, so wedding clothing shops will have people on hand to do those alterations.
Many sports and pursuits, particularly outdoor ones, demand expensive clothing. Some examples are motorcycling with it's thick protective leather gear, sub-aqua diving, windsurfing, and other water sports that require neoprene wetsuits, or even fell-walking, with it's waxed cotton and other waterproof fabrics that will lose their waterproofing if inexpertly repaired. With garments such as these, the cost of the clothing in the first place mean that repairs are more cost-effective.
The downside of these being specialist pursuits is that it's unlikely that a shop that repairs your particular kind of clothing will exist close to you, unless it's water sports and you live on the coast. But the internet can come to your aid here, allowing you to find someone who can effect a repair who is either close enough to make it worthwhile visiting, or who will operate a postal service.
Keep Looking
Whatever your needs, although it won't be as easy to find someone as it would have been twenty or thirty years ago, there are people out there with the skills. Consider advertising for someone locally if your search proves fruitless, you never know who's out there.
You might also like...