Finding a Good Builder For Your Home Improvements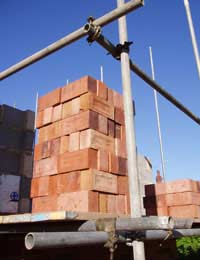 Everyone who's contemplating a building project is concerned about finding a good builder especially as it's a profession that has acquired a reputation for having more than it's fair share of cowboys. But there are a number of ways that you can protect yourself and ensure that your experience is a good one.
It's imperative, when getting any work done on a house, to have more than one person come round and price the job up. The minimum is three, although if you're in a remote rural area it might be tricky finding that many to come out to see you, to talk over the job.
Personal Recommendation
First you need to find the candidates for your shortlist, and the best and most obvious method to try is getting personal recommendations. Not only will you get an insight into how well they did the work, how courteous they were and how they dealt with the disruption to your lives, but they will know that they come recommended and will want to keep that reputation up. Ask family and friends if they have used anyone in the past, or if you've noticed any neighbours having recent building work, go and ask them how it went. You could also ask if you can have a look around, as if they were happy with the job then they'll probably enjoy showing people around.
If you can't find anyone through friends, family and neighbours, then the internet has expanded the reach of recommendations. If there is a community website that covers your area or region that has a forum facility, you can post a message asking for recommendations and see what comes up. Failing that, look in the Yellow Pages or other directories, or search on the web for builders in your area.
You should ask for and check any builder's credentials and accreditations, although be aware that some of these associations only require members to pay regular membership fees, so there may not be much in the way of assessment going on.
Get the Quotes In
Do some preparation ready for the builders to come round and look at the property. Get clear in your mind the things that you know you want and also the bits that you might not be so sure about just yet. Make drawings and sketches and find some photos from the web, or magazines, that show the sort of look that you are after.
When the builders on your shortlist are talking to you about the job, ask them about other similar jobs they've done and whether or not you can speak to those customers. Anyone who is reluctant to do this is likely to have something to hide. Ask them also about those areas of your job that you might not be clear about yet, as you are not a builder, and see how enthusiastic they are about the job as a whole. Ask them how they will deal with the changes that will inevitably happen as the job progresses. The main thing that you want to hear them say is that they will agree costs for each extra piece of work or change before progressing with it. If you don't hear that, mark them down.
Consider Professional Help
Ask each of the candidates for a detailed estimate and make sure that you have someone knowledgeable to check it against, to see if there's anything missing that might have to be added later on. If you are using an architect they may well be able to help, if not, it might be worth hiring a chartered surveyor for a couple of hours to go through the quotes. It will cost money, but it might be well worth it.
You might also like...