Help With Appliance Repair and Maintenance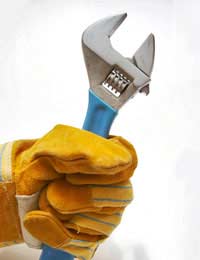 With the low price of many white goods and household gadgets it's getting harder to find people who can stay in business repairing and maintaining them. There have also been problems with some of the companies supplying extended warranties, so the public have largely lost their faith in them.
Manufacturing Shift
In many towns there will still be a shop that will repair appliances, either in your home or at their premises. But increasingly it is cheaper to replace an item. The problem stems from the shift in manufacturing out of the United Kingdom and Europe to developing countries where the labour is cheaper, China in particular at the moment. Increasingly companies in the UK simply buy batches of products from overseas suppliers rather than setting up and running their own factories, so they do not have control over the different models, or how long replacement parts will be made available for any item.
Before this, factories in the UK had their own product ranges and controls and if it was necessary to make a batch of parts for a washing machine or dishwasher, then they could do it. Now that this is all being controlled over the other side of the world, they cannot choose to do it, they have to pay. This makes it more expensive to get parts, and if they are no longer available, the machine is then obsolete. The period that parts used to be made available for used to be measured in decades, now it is years, and models change every eighteen months or so instead of every five years, which makes it impossible for a repair shop to keep spares for everything.
Extended Warranties
Extended warranties are sold by retailers but are in fact run by insurance companies and the retailers are usually on commission to sell them. This was fine except for the fact that the warranties offered by the retailers were often a lot more expensive that n other offerings that customers weren't made aware of, often adding up to 50% onto the price of a machine. Just to make things worse, in the 1990s, a number of the insurance companies went bust, leaving consumers high and dry and the retailers washing their hands of the whole thing.
The second problem with the warranties was that consumer groups branded them a rip-off. This was based on the fact that, for the price of a warranty over three or five years, the premiums often added up to almost the same amount of money as buying a new one. Consumer groups argued that instead of taking out a warranty, purchasers should put the same amount of money each month or year into an interest-bearing savings account. Then if anything went wrong with the machine people could use that money to get it repaired. The chances are that many people following this model being out of pocket were minimal.
Find a Man Who Can
So the smart advice is to avoid the extended warranties, put your money away instead, and scour the newspaper ads for a local firm who still fixes things. If you can find an engineer who can come out and replace parts in an appliance and do a good job then they are worth holding on to.
You might also like...